Kurai
Angel Sanctuary Character


Profile

Race:
Demon
Gender:
Female
Eye Color:
Blue
Hair Color:
White
Wings:
Two
Status
Status:
Alive
Relationships

Family:
Arachne (sister)
Kurai (九雷 Kurai) is the 14th and last princess of the Gehennan Royal Family, and believes herself to be the only survivor of her family. She is master of the Shinryuu, three dragon oracles and various dragon "gods" who protect Gehenna. The master is declared heir to Gehenna's throne, regardless of the fact that Kurai had older brothers who could have inherited the throne instead. She believes Arachne is her cousin, though in truth she is her older sibling. Kurai is in love with Alexiel for saving her and helping her kingdom in the war against Heaven. She later loves Setsuna Mudo. After Setsuna's return to Earth, she resolved to be a good queen to her people.
Appearance
Edit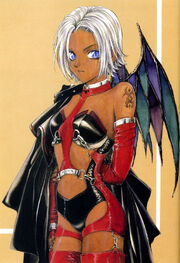 Kurai has white chin length hair and contrasting brown skin. She has blue eyes. Her wings consist of green, blue, and purple patagium supported by black forelimbs.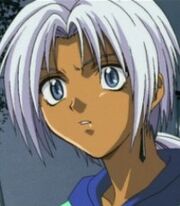 Ad blocker interference detected!
Wikia is a free-to-use site that makes money from advertising. We have a modified experience for viewers using ad blockers

Wikia is not accessible if you've made further modifications. Remove the custom ad blocker rule(s) and the page will load as expected.